William N. Beck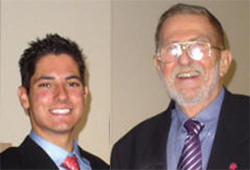 Mr. William N. Beck graduated from Fresno State in 1952 with a degree in business. He went on to great success in wine marketing. He was one of the people who helped the California wine industry's expansion by acquainting people with wine in a variety of ways during the 1960s and '70s.

After visiting the campus in 2006, he took a special interest in helping to establish the Bulldog Pride Scholarship Fund. His enthusiastic advice helped build the Bulldog Pride Scholarship Fund rapidly, and it awarded the first three scholarships in 2007. These competitive scholarships are presented each year by the Fresno State Alumni Association.

Mr. Beck wanted to make as big a difference as he could in our students' lives by generously sharing some of what his Fresno State education helped him earn. Upon his death in 2007, we learned that he had left a $100,000 bequest to be added to the Bulldog Pride Scholarship Fund. It is the biggest single gift to an alumni association scholarship endowment at any of the California State University's 23 campuses. As an endowed scholarship, Bill Beck's legacy will encourage Fresno State students to embrace the concept of "Bulldog Pride" forever.
We Welcome Your Story!
Sharing the reasons why you chose to include Fresno State in your estate plan will help to show others the benefits of investing in the future of higher education in the Central Valley. Give us a call or send us your story along with your contact information (and photo, if desired) to:

Liz Garvin, CGPP
Director of Planned Giving
5244 North Jackson Ave. KC45
Fresno, CA 93740-8023
559.278.4038
egarvin@csufresno.edu