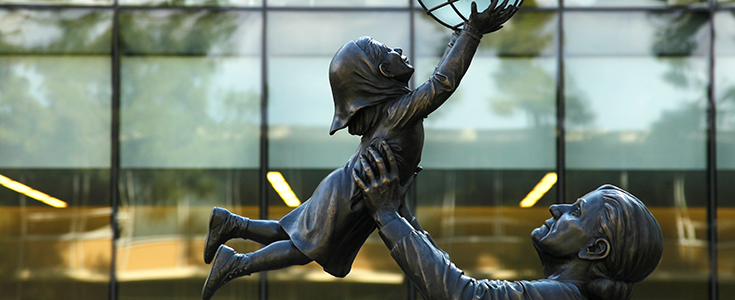 Gifts of Securities
Other than cash, securities (stock shares, mutual fund shares, bonds) are a very popular way to fund charitable gifts to Fresno State. Publicly traded securities are usually very marketable, have a clear value, and are easily transferred. Tax laws heavily favor gifts of assets that have increased in value.
Why Should I Consider a Gift of Securities?
If your securities holdings have appreciated in value, you may have an opportunity to avoid capital gain tax that would be applied to the appreciation when the securities are sold. As with most charitable gifts, you may also earn an income tax charitable deduction for the full market value of the securities. With the tax savings, the "cost" of your gift to Fresno State may be much less than the actual value of the gift made – and preferable to a gift of cash. In a sense, the IRS pays for a portion of your gift!
Example:
Gift to Fresno State of stock shares valued at $5,000

(Shares were purchased several years ago for $1,000)
Result:
Capital gain tax avoided: $600

Savings from income tax charitable deduction (at a 35% combined tax bracket): $1,750

Actual "cost" of $5,000 gift: $2,650
What If My Securities Declined in Value?
One option is to sell the securities, enjoy a potential income tax deduction for the capital loss, and give the cash proceeds to Fresno State. An income tax charitable deduction is available for the charitable gift.
Can I Also Earn Income Payments From My Gift?
A variety of charitable life income arrangements can allow you to make a gift while retaining a stream of income for yourself or someone else. By funding a life income arrangement with appreciated securities, you may benefit by avoiding or deferring the capital gain taxes that you would otherwise pay. Some alternatives allow you to "lock in" an income that is no longer dependent on fluctuations in the securities markets. Because some of the financial benefit is returned to you as income, the income tax charitable deduction will be less than for an outright gift of the securities to Fresno State.
How Can I Make a Gift of Securities to Fresno State?
Make a gift to Fresno State today by Electronic Transfer!

If you are holding the securities as certificates, contact your account representative for a "stock power" form. Sign the stock power but do not enter other information or dates; our staff will enter that information based on the date we receive the documents. After signing, securely send the certificates and the stock power form (in separate envelopes) to the Planned Giving office.

NOTE: Make sure you notify the Planned Giving office of the gift and intended designation for use of the gift; otherwise, we may not be able to identify the purpose or donor of the securities. Warning: If your account representative sells the securities before transferring them, you may end up paying capital gain tax that you expected to avoid. Give clear instructions to transfer, not sell, the securities.
Seek Advice
Planning your estate can sometimes get complicated. Even simple estate plans can have severe tax and other legal consequences. As you review these pages, please remember that there are always exceptions to every rule. We encourage you to seek guidance from a qualified licensed professional such as an attorney or certified public accountant to be certain that your desires are fulfilled without any unwelcome surprises.
How Can Fresno State's Planned Giving Office Be of Assistance?
We are charitable planning specialists and have resources available to support both your investigation and your implementation of gift planning techniques. Our services are professional, confidential and collaborative. They are provided without cost or obligation. We encourage you to call on us to assist you, your family and your advisors in exploring financial, estate and charitable planning.

For more information, please contact:
Liz Garvin, CGPA
Director of Planned Giving
5244 North Jackson Ave. KC45
Fresno, CA 93740-8023
559.278.4038
egarvin@csufresno.edu