Marge Winters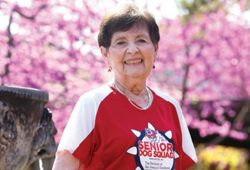 Richard and Marge Winters were farmers out in Easton where they grew raisins and almonds. Although they are not from the Central Valley, they have always been passionate about Fresno State and, in particular, the athletics program. For over 30 years, they were season ticket holders, cheering on the Bulldogs and supporting student-athletes at every home game.
Marge's dedication to Fresno State athletics only grew stronger and, in 2014, she became an active member of the Senior Dog Squad. She cherishes the memories made and is grateful for the relationship the Dog Squad has with the cheerleaders.
Marge appreciates what Fresno State athletics provides for the community, so when it came to supporting organizations that mattered most to her, she immediately thought of the University. That's why she is leaving a generous $1.5 million gift in her will to support student-athletes through the Bulldog Foundation.
"I immediately thought, 'How can we help make the Bulldog Foundation successful?' Fresno State athletics has given so much to us through unforgettable experiences. Now, we can give back to them."
Richard, a life-long rancher, passed away in 2019, but Marge continues to display their eternal Bulldog spirit. Planned gifts like this one help support student-athletes as they strive for excellence in the classroom and in competition.
We Welcome Your Story!
Sharing the reasons why you chose to include Fresno State in your estate plan will help to show others the benefits of investing in the future of higher education in the Central Valley. Give us a call or send us your story along with your contact information (and photo, if desired) to:

Liz Garvin, CGPP
Director of Planned Giving
5244 North Jackson Ave. KC45
Fresno, CA 93740-8023
559.278.4038
egarvin@csufresno.edu