Col. Edwin J. Cook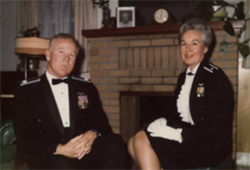 This retired Air Force Colonel attended Fresno State in the 1940s. This remarkable man served in the Army and Navy to finally earn the rank of Colonel in the Air force. Col. Cook wanted to honor his first wife, an Air Force flight nurse who died from exposure to Agent Orange through contact with wounded soldiers coming straight from the war zone in Viet Nam.

He established an endowment to provide forgivable loans to students in Fresno State's Nursing Program. Annual scholarship loans will be forgiven if the student spends two years as a nurse serving in the U.S. military, assisting veterans or helping with Native Americans.

His gifts to the endowment were modest during his lifetime. He died at age 84 on May 7, 2009 and was buried at Arlington National Cemetery with full military honors. His last will and testament and family trust revealed that he had left his entire estate to the endowment. The Colonel Edwin J. Cook and Elvira E Lindholm Cook Endowed Student Loan/Scholarship Fund now exceeds $1 million and will help nursing students for generations to come.
We Welcome Your Story!
Sharing the reasons why you chose to include Fresno State in your estate plan will help to show others the benefits of investing in the future of higher education in the Central Valley. Give us a call or send us your story along with your contact information (and photo, if desired) to:

Liz Garvin, CGPP
Director of Planned Giving
5244 North Jackson Ave. KC45
Fresno, CA 93740-8023
559.278.4038
egarvin@csufresno.edu