Geraldine Tahajian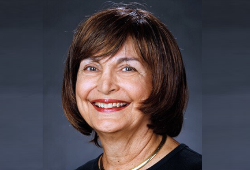 Geraldine "Geri" Tahajian was born and raised in Fresno. She graduated from Bullard High School in 1961, and graduated from, at the time, Fresno State University in 1965 with a teaching credential. She taught at the Fresno Unified School District before marrying her husband, Jerry Tahajian, a fellow Bulldog, and moving to San Francisco, where she taught as a mentor teacher.
In 1969, she and Jerry returned to Fresno once he completed law school, and while raising her family, she tutored a number of students, served as PTA president, and even earned the Fresno Unified School District Volunteer of the Year award in 1985.
Part of Geri's childhood dream was to build buildings, and in 1987, she became one of the first female licensed general contractors in Fresno County. She also co-founded GeriMel Construction, Inc. with Mel Westover, where she served as its president for 30 years and building for more than 400 custom homes.
Geri was very active in community organizations and has held numerous board positions and chairmanships and served as president of 16 organizations, including the Ani Guild, Daughters of Vartan, Dorcas Guild, and the University of San Francisco Law School Auxiliary, to name a few.
At our very own Fresno State, Geri was a strong advocate for the Henry Madden Library, having served on the Friends of the Madden Library Board from 2003-2016, and was particularly dedicated to the Arne Nixon Center for the Study of Children's Literature. In 2015, Geri was honored as a "Top Dog" Outstanding Alumna for the Henry Madden Library.
Geri was known for always carrying a smile on her face, with a true love for many family and friends. She saw the good in everyone with her optimistic and positive outlook on life.
Geri, a Bulldog for life made BOLD plans that included Fresno State and the Henry Madden Library in her Trust. Its thoughtful and forward thinkers like Geri that are helping make Fresno State's future even brighter!
Geri was known in life and still can be remembered for her words of inspiration and motivation. Click here to see a website developed by her husband Jerry Tahajian in memory of his loving wife: https://thoughtsforsuccess.org/
We Welcome Your Story!
Sharing the reasons why you chose to include Fresno State in your estate plan will help to show others the benefits of investing in the future of higher education in the Central Valley. Give us a call or send us your story along with your contact information (and photo, if desired) to:

Liz Garvin, CGPP
Director of Planned Giving
5244 North Jackson Ave. KC45
Fresno, CA 93740-8023
559.278.4038
egarvin@csufresno.edu