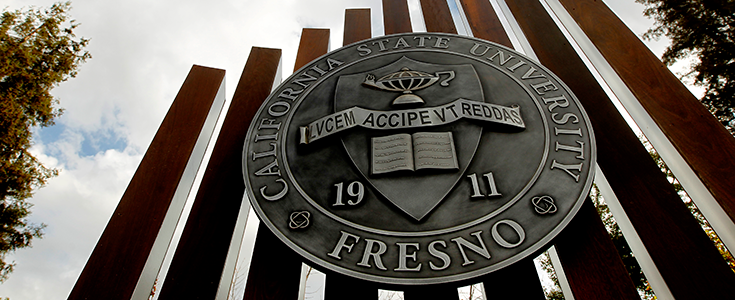 Life Insurance Gifts
When you name Fresno State as the owner and irrevocable beneficiary of an existing life insurance policy, you receive an immediate income tax deduction based on the cash surrender value of the policy. Whether your gift is of a new or an existing policy, you receive a charitable deduction each year based on your annual gift to cover premium payments as long as the policy is owned by the Foundation. Your contribution of relatively small annual amounts creates a sizable gift to Fresno State's future.

If your life insurance policy is fully paid-up, transferring ownership to Fresno State can result in an immediate income tax deduction for the cash surrender value of the policy. Fresno State then has the opportunity to elect to cash in the policy now or to keep the policy and receive the death benefit later.
How Do I Make a Gift of Life Insurance?
Changing your policy's ownership or beneficiary designation is a simple process. For life insurance policies, please remember that these assets are directed by a separate "beneficiary designation" or "change of ownership" forms, not by your will. You will need to contact your life insurance company or agent to request the appropriate form. When you receive the form, you will need to indicate "California State University, Fresno Foundation, IRS #94-6003272" as the new owner/beneficiary./p>
Direct Your Gift for a Specific Purpose
You can further designate the gift to be used for a specific purpose within Fresno State through a letter of intent that you send to the Planned Giving office. It is also possible to establish an endowment by entering into a revocable agreement that becomes effective upon funding (usually after your death.) Liz Garvin, Director of Planned Giving, can be reached at egarvin@csufresno.edu or (559) 278-4038. He would be happy to discuss ways to ensure that your gift is directed to the specific college, department or university program that you designate.
Let Us Know...
Once you have designated Fresno State as the new owner or a beneficiary of your life insurance policy, please let us know of your decision. Your gift automatically qualifies you to become a member of the Heritage Society. Although we strictly comply with requests to remain anonymous, we would be honored to add your name to this exclusive list of individuals who are investing in the future of our great University. Even if listed as an "anonymous" member, it reminds others that there are other great people out there who have included Fresno State in their estate plans.
Seek Advice
Planning your estate can sometimes get complicated. Even simple estate plans can have severe tax and other legal consequences. As you review these pages, please remember that there are always exceptions to every rule. We encourage you to seek guidance from a qualified licensed professional such as an attorney or certified public accountant to be certain that your desires are fulfilled without any unwelcome surprises.
How Can Fresno State's Planned Giving Office Be of Assistance?
We are charitable planning specialists and have resources available to support both your investigation and your implementation of gift planning techniques. Our services are professional, confidential and collaborative. They are provided without cost or obligation. We encourage you to call on us to assist you, your family and your advisors in exploring financial, estate and charitable planning.

For more information, please contact:
Liz Garvin, CGPA
Director of Planned Giving
5244 North Jackson Ave. KC45
Fresno, CA 93740-8023
559.278.4038
egarvin@csufresno.edu