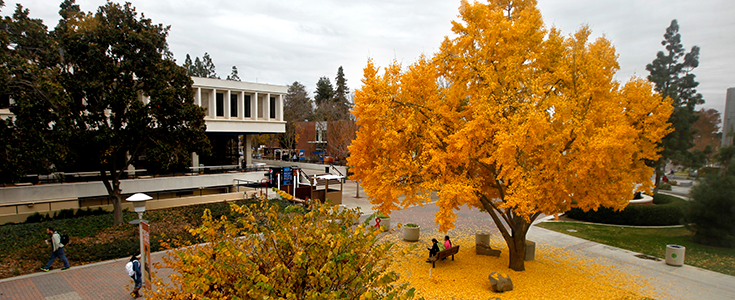 Charitable Gift Annuities
California State University, Fresno Foundation Charitable Gift Annuities provide a lifetime income, a charitable income tax deduction, and a reduction in capital gains tax. In addition, a portion of the income received is usually tax-free. The highly competitive rate of return makes this instrument a popular charitable giving arrangement.

Entering into a Gift Annuity agreement allows the donor to receive fixed payments for life. The payment amount is based upon the age(s) of the recipient(s) when the gift is completed. The older the recipient, the larger the payments.

The payments can be based upon one or two lives. When based on one life, payments are made to the donor until death. When based on two lives, the payment amount is figured on an average age of both recipients and payments continue to the second person (usually a spouse) until death. Upon the death of the annuitant(s), any remaining amounts in the fund are realized as a gift to Fresno State.
How Does a Charitable Gift Annuity Work?
In exchange for an irrevocable gift of cash or other assets, Fresno State agrees to pay one or two persons a fixed sum quarterly for life. The payments are backed by the full resources of California State University, Fresno Foundation. The charitable gift annuity rate of return is often higher than what's available from many conservative investments.
What is the Minimum Amount Required to Open a Charitable Gift Annuity?
Charitable gift annuities may be created with a gift of $10,000 or more.
What are the Advantages of a Charitable Gift Annuity as a Gift to Fresno State?
Life income that you cannot outlive.
Guaranteed rate of return for life.
Charitable income tax deduction.
A portion of the income received is income tax-free.
Reduction and deferral of capital gain tax on highly appreciated assets.
You may designate yourself and/or your spouse or another person to receive the income.
How is the Annuity Rate Determined?
The annuity rate depends on the age of the annuitant(s) at the time of the gift. The older the annuitant(s), the more income Fresno State can agree to pay annually. The rate in effect when you establish the annuity never changes and is guaranteed for life.
Can I Defer Income From a Gift Annuity to a Later Date, Such As When I Retire?
Yes! You can take advantage of a deferred-payment gift annuity to supplement retirement plans that have contribution limits, such as IRAs, Keogh plans, and 401(k) plans. This program enables you to give cash or securities now and receive annuity payments at a later specified time (minimum one-year deferral period), such as retirement. The benefits of a Deferred Gift Annuity are higher payout rates and a larger charitable income tax deduction in the year in which the annuity is established.
Seek Advice
Planning your estate can sometimes get complicated. Even simple estate plans can have severe tax and other legal consequences. As you review these pages, please remember that there are always exceptions to every rule. We encourage you to seek guidance from a qualified licensed professional such as an attorney or certified public accountant to be certain that your desires are fulfilled without any unwelcome surprises.
How Can Fresno State's Planned Giving Office Be of Assistance?
We are charitable planning specialists and have resources available to support both your investigation and your implementation of gift planning techniques. Our services are professional, confidential and collaborative. They are provided without cost or obligation. We encourage you to call on us to assist you, your family and your advisors in exploring financial, estate and charitable planning.

For more information, please contact:
Liz Garvin, CGPA
Director of Planned Giving
5244 North Jackson Ave. KC45
Fresno, CA 93740-8023
559.278.4038
egarvin@csufresno.edu