Charitable Gift Annuity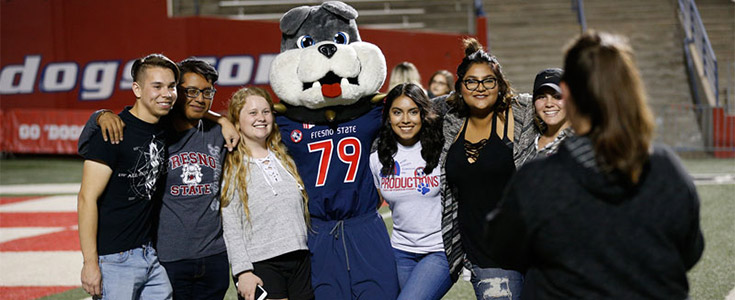 You may be tired of living at the mercy of the fluctuating stock and real estate markets. A charitable gift annuity is a gift made to our organization that can provide you with a secure source of fixed payments for life.
Flowchart: Donor funds a charitable gift annuity with stock or cash. The donor receives fixed gift annuity payouts and the Fresno State receives the remainder after all payouts have been made.
Benefits of a charitable gift annuity
Receive fixed payments to you or another annuitant you designate for life
Receive a charitable income tax deduction for the charitable gift portion of the annuity
Benefit from payments that may be partially tax-free
Further the charitable work of Fresno State with your gift
How a charitable gift annuity works
A charitable gift annuity is a contract between you and Fresno State.
You transfer cash or property to Fresno State.
In exchange, we sign an annuity contract and promise to pay fixed payments to you for life. The payment can be quite high depending on your age, and a portion of each payment may even be tax-free.
You will receive a charitable income tax deduction for the gift portion of the annuity.
You also receive satisfaction, knowing that you will be helping further our mission.
If you decide to fund your gift annuity with cash, a significant portion of the annuity payment will be tax-free. You may also make a gift of appreciated securities to fund a gift annuity and avoid a portion of the capital gains tax. Please contact us to inquire about other assets that you might be able to use to fund a charitable gift annuity.

Contact us
If you have any questions about charitable gift annuities, please contact us. We would be happy to assist you and answer your questions.
Seek Advice
Planning your estate can sometimes get complicated. Even simple estate plans can have severe tax and other legal consequences. As you review these pages, please remember that there are always exceptions to every rule. We encourage you to seek guidance from a qualified licensed professional such as an attorney or certified public accountant to be certain that your desires are fulfilled without any unwelcome surprises.
How Can Fresno State's Planned Giving Office Be of Assistance?
We are charitable planning specialists and have resources available to support both your investigation and your implementation of gift planning techniques. Our services are professional, confidential and collaborative. They are provided without cost or obligation. We encourage you to call on us to assist you, your family and your advisors in exploring financial, estate and charitable planning.

For more information, please contact:
Liz Garvin, CGPP
Director of Planned Giving
5244 North Jackson Ave., M/S KC45
Fresno, CA 93740-8023
559.278.4038
egarvin@csufresno.edu

Additional Information
Current charitable gift annuity (payments begin within one year). With a current gift annuity, you may transfer cash or property in exchange for our promise to pay you fixed payments beginning as early as this year. You will receive an income tax charitable deduction this year for the value of your gift to Fresno State.
Deferred charitable gift annuity (for payments at future date). Perhaps you are not ready to begin receiving payments until a future date, such as when you retire. With a deferred gift annuity, you establish the gift annuity today, receive a charitable income tax deduction this year, but defer the payments until a designated date sometime in the future. Best of all, because you deferred the payments, your annual payment will be higher when the payments start than they would have been with a current gift annuity.
Flexible deferred charitable gift annuity (gives you flexibility as to when the payments will start). With a flexible deferred gift annuity, you retain the flexibility to decide when the annuity will begin making payments. As with a deferred gift annuity, you establish the annuity today and receive a charitable deduction this year, but the payments are deferred until such time as you elect to begin receiving the payments.